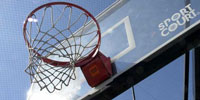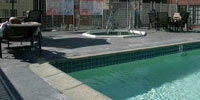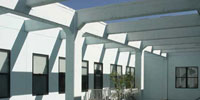 About Santee Court
Santee Court is the largest adaptive reuse project currently under way in the City of Los Angeles. It will transform nine historic garment buildings on the northern edge of the Fashion District into a contemporary downtown neighborhood.
At the beginning of the 20th century, Michael J. Connell established the first garment and textile manufacturing buildings launching the Fashion District of downtown Los Angeles. Between 1911 and 1912, architects Arthur Angel and Carl Leonard designed Connell's first structures, including the Connell Building, the Bailey Hat Building, and the Brownstein-Louis Building. By 1929, development in the district flourished, creating a significant and influential piece of the City's rich heritage.
In 2001, these building were designated local historic monuments in recognition of their significance as a social and architectural representation of industrial Downtown Los Angeles.
Each of these heavy, concrete-frame buildings reflects a distinctive architectural style through its decorative facade and oversized, industrial loft windows designed to maximize natural light, both typical design features of the time.
MJW Investments purchased the buildings in 1998 from Mr. Arthur Gerry, a prominent local businessman. MJW since committed its energies and efforts into reinventing these unique architectural landmarks. The result is Downtown Los Angeles' most extraordinary new neighborhood: Santee Court
For more information, visit: www.santeecourt.com